TechGripper Cell Phone, GPS and Personal Device Holder
You've already made a considerable investment in your cell phone and/or GPS, so why would you choose some cheap plastic cradle to mount it to your motorcycle?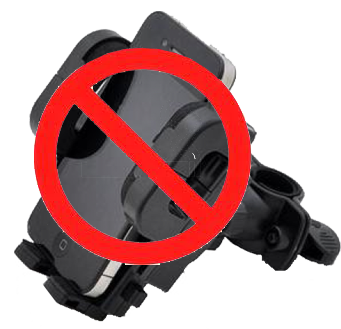 Each day we hear horror stories from people just like you who have damaged or lost their cell phone or GPS using one of those plastic mounting devices or cradles to attach your device to.
Because of this we have developed what is recognized as the best solution in the powersport industry, the TechGripper by Techmount.
"I was impressed that my phone and the TechGripper remained in place, both secure and soundly safe. While I won't reveal at what speed the TechGripper was tested at, I will just say that it is easily rated for triple digits." : Allan Lane – August 2014 Sport Bike Magazine

The body of the TechGripper is injection molded using Dupont Delrin Acetel resin thermoplastic and your cellphone is held in securely in place with polyurethane fabric to prevent scratching of your phone, and four stainless steel springs with a 18-pound grip.
The grip range of the TechGripper is 1.9" to 4.2" and will hold cellphones (including the Samsung Note), GPS devices, MP3 players, GPS devices and other personal devices.
The TechGripper will interface with all of our Techmount GEN4 mounting systems, enabling you to mount your cellphone to your motorcycle, ATV, UTV, snowmobile or any other powersport vehicle.
Your TechGripper is secure for life as it is UV Proof, heat resistant, waterproof and is the only motorcycle cellphone mounting device on the market to come with a lifetime warranty!